PRESS RELEASE: 5 Weeks Until Hotstar Presents The ANOKHI Awards 2017!
FOR IMMEDIATE RELEASE
Tuesday 24th October, 2017
HOTSTAR PRESENTS THE ANOKHI AWARDS 2017:
ANNOUNCING MAIN HOST & CELEBRITY FASHION DESIGNER
THE AWARDS SHOW:
Toronto, ON (Tuesday October 24, 2017) – Five weeks today, Canada's leading multi-platform South Asian entertainment, lifestyle and events company, ANOKHI MEDIA, will be hosting its much-anticipated, signature calendar event, The ANOKHI Awards 2017. The event is to take place at the historical Liberty Grand Entertainment Complex in Toronto, on Tuesday November 28th, 2017, in celebration of the company's 14th anniversary. Full details as they are announced, can be seen on the official website at www.AnokhiAwards.com.
THE EVENT PROGRAM:
6.00pm-7.30pm: Celebrity Red Carpet Reception
8.00pm-10.30pm: Awards, Fashion, Entertainment Show
10.30pm-1.00am: After Show Soiree
TICKETS ARE NOW AVAILABLE FOR PUBLIC PURCHASE
Tickets can be purchased HERE. The three available packages are:
 VVIP Experience"Up Close & Personal With The Honorees"
 – Pre-Post Show: In Governor's Ballroom, Access To Celebrity Lounge with White Glove Service
–  Show: In Artifacts Room, Seating Section A (front area)
VIP Experience
– "Better Than General Seating"
– Pre-Post Show: In Governors Ballroom, Access To General Area
– Show: Section B (middle area)
General Seating
– "Best Price Option"
– Pre-Post Show: In Governor's Ballroom
– Show: Section C (rear area)
Audiences can expect at the event:
– A buzzing red carpet featuring over 30 tremendous personalities.
– An awards presentations in the fields of Business, Media, Entertainment, Crusader and Glamour.
– Live performances by some of today's hottest musical artists.
– A "never seen before in Canada" celebrity fashion runway show like no other.
Delectable food stations and wine pre and post the show, as you mix, mingle & network. We have curated a stylish grab & go experience to encourage networking opportunities for you all. There will be a cash bar on sight also for those of you who prefer to choose your own beverages. Please note: The food & beverage service will be closed during the show.
Take home the much-awaited 3rd edition of our commemorative coffee table book profiling 30 of today's disruptive South Asians, in Hotstar Presents The ANOKHI List 2017—our gift to all attendees!
Tickets will be on sale until Monday, November 27th, 11:59 pm or until quantities last.
WORDS FROM ANOKHI MEDIA:
Raj Girn
Founder, President, CEO, ANOKHI MEDIA.
Raj Girn's detailed bio can be viewed HERE.
"As Canada celebrates 150 years of independence this year, ANOKHI MEDIA is proud to announce that this same year, as we celebrate 10 years of hosting our annual awards show – which mandates honouring the 'regional, national, and international success stories of some of today's most prolific South Asians' – our 3rd edition of the coffee table book, 'Hotstar Presents The ANOKHI List 2017', has, through a rigorous three-part nomination process, identified a record year for Canadian honourees. This is a true testament to the fact that Canada's fastest growing cultural group has finally come of age, dominating across all industries and all trajectories, as an integral component of the Canadian and global landscape, AND without loosing its cultural identity. Along with my team, our sponsors, and partners, I look forward to launching the coffee table book at 'Hotstar Presents The ANOKHI Awards, 2017', on Tuesday November 28th, 2017, at the Historic Liberty Grand in Toronto, thus celebrating another year of tremendous South Asian success." – Raj Girn
ANNOUNCING THE SHOW HOST
For the first time in its history, the awards will have a main show host! Presenting.. 
Ali Hassan
Awards Show Host, Actor, Comedian, CBC Host. 
Ali Hassan is known as the host of CBC's Laugh Out Loud (CBC Radio One, SiriusXM), host of the nationally televised annual battle of the books, Canada Reads, and as a guest-host of q, the leading arts and culture program in Canada, reaching an audience of 3 million people weekly across North America. He has also had guest-starring and recurring roles on ABC's Designated Survivor, FXX's Man Seeking Woman and CTV's Cardinal, among others. His solo comedy festival show, Muslim Interrupted, had a successful 26 date run at the Edinburgh Fringe Festival (2016)
Hassan was the first to do a comedic performance at the ANOKHI Awards, and followed it by winning an ANOKHI award in the comedy category a couple of years later.
"It's like Raj can't help but promote me every year! 🙂 Hotstar Presents The ANOKHI Awards 2017 is going to be an absolutely great night, with some of the expected awards show stuff, but also a ton of completely unexpected moments.  I've been waiting a long time for a platform like this. Thank you ANOKHI!  And what are YOU waiting for?  Get your tickets asap at www.anokhiawards.com!" – Ali Hassan
CANADIAN PREMIERE OF PAKISTAN'S #1 CELEBRITY FASHION DESIGNER
ANOKHI MEDIA is pleased to welcome its first Pakistan based fashion designer since the inception of the awards 10 years ago!
Ali Xeeshan
Celebrity & Bridal Fashion Designer
A graduate from Pakistan School of Fashion Design, Ali Xeeshan has risen to fame with his fresh and unique approach to South Asian bridal wear. His designs showcase a royal, Mughal traditional look with modern blends, catering to brides looking for a change from the ordinary. After receiving an award from the Pakistan Fashion Design Council while still a student, he has gone on to receive acclaim for his fashion showcases at Pantene Bridal Couture Week and PFDC L'Oreal Paris Bridal Week. Xeeshan has also forayed into the world of wall art, along with providing his expert services in wedding choreography and planning, all of which employ his signature blend of the old and the new.
Amongst the celebrities who have worn his garments are: Mahira Khan Saba Qamar, Mawra Hocane, but to name a few.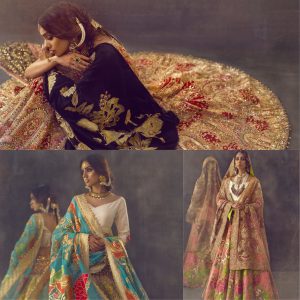 "I am thrilled to be included in 'Hotstar Presents The ANOKHI List 2017' and to be invited be showcase for the first time in Canada during the Awards show. I look forward to seeing my Canadian fans on November 28th in Toronto, with a show that will mesmerize!" – Ali Xeeshan
NEW SPONSORS & PARTNERS
ANOKHI MEDIA is pleased to welcome back:
Rogers as a copper level sponsor.
Sapna Toronto as a promotional partner.
Weekly Voice as a promotional partner.

ANOKHI MEDIA is pleased to announce Eat Clean Meals as the Talent & Volunteer Meals sponsor
THE FULL PORTFOLIO OF SPONSORS AND PARTNERS ALREADY ANNOUNCED:
We would like to sincerely thank our entire sponsors and partners' portfolio for their invaluable support this year. For full list, CLICK HERE.
Hosted By ANOKHI MEDIA
Presenting Sponsor Hotstar
Chrome Sponsor Brar Sweets, Cargojet
Copper Sponsor Rogers, Cargojet, Home Of Dentistry
Tin Sponsors  Vasanti Cosmetics
Venue Partner Liberty Grand Entertainment Complex
Hotel Partner Sheraton Centre Hotel Toronto
Event Logistics Management Think Big Productions
Talent Management By Chic Events by Sonia
Award Show Produced & Directed By Krista Slack
Fashion Show Produced & Choreographed By Toronto Fashion Academy
Show Animations By Philip Studios
Talent & Volunteer Meals Eat Clean Meals
Branding By AnEntity Inc.
Media Relations By Mediaworkss!!
Facebook Live By ANOKHI MEDIA, Open Chest with Raj Girn
Coverage By ANOKHI Pulse TV, ANOKHI Spotlight TV, Open Chest with Raj Girn
Promotional Partners: Sapna Toronto, The Weekly Voice
More to come!
This year's media accreditation is now live at: https://www.anokhiawards.com/media-accreditation/.
Celebrity announcements starting next week!
EVENT HASHTAGS:
Primary hashtag: #hotstarANOKHI17
Secondary hashtags: #hotstarTheAnokhiAwards17 and #hotstarTheAnokhiList17

For more information about the awards show, coffee table book, and to interview Raj Girn, please contact:
Sumit Ahuja
[email protected]
1.905.962.3304
– 30 – 
About ANOKHI MEDIA
ANOKHI MEDIA was founded in 2002 by its award-winning President and CEO Raj Girn, who had the vision of creating a one-stop multimedia resource to communicate and engage intimately with the global South Asian community to which she belongs, as well as provide a platform for relevant and penetrative connectivity between the community and the commercial world at large. With this as the central focus and mission statement, Raj and her team have cultivated a 14-year history of a brand that has forged this vision into the mindshare of the community and market share of the client.
ANOKHI MEDIA's portfolio includes a robust online community with an online magazine, blogosphere, three video channels, a print and digital coffee table book, an annual awards show, a boutique event series, a weekly newsletter, and a global social media network. It has also garnered an extensive, long-term, multi-national client base due to its innovative strategies and pioneering initiatives. The brand has become North America's premier "go to" information resource for all aspects associated with South Asian pop culture, lifestyle and entertainment, for the consumer, the media and the commercial sector al large.